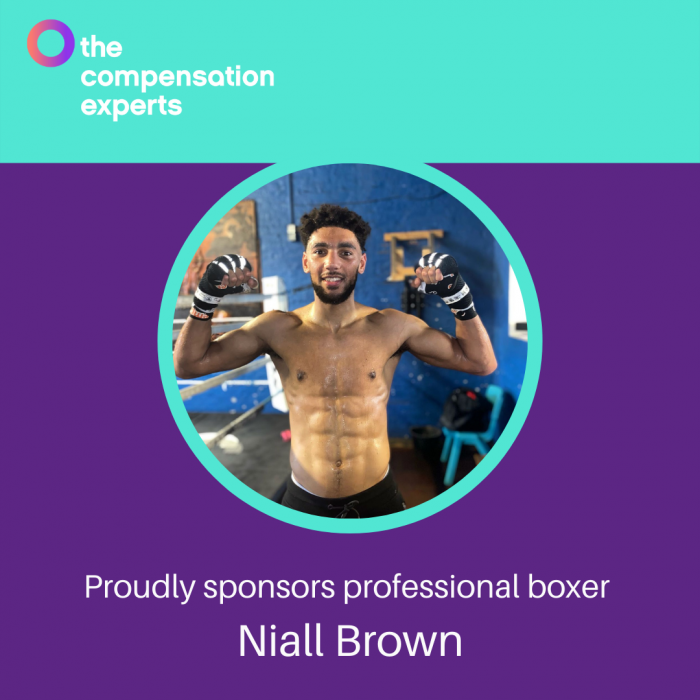 The Compensation Experts are Proud to Sponsor Local Professional Boxer Niall Brown
Our consumer-facing brand The Compensation Experts are thrilled to announce that we have partnered with local boxer Niall Brown and have begun an ongoing sponsorship of the promising young boxer.
Niall is from Stockport and originally started training in Muay Thai at MSA Academy in Stockport at the age of 16. He also holds a Thai Boxing record of 18 fights – 15 Wins, 2 Losses, 1 Draw. He has fought on the biggest promotions in England and won several belts in Muay Thai including becoming the ISKA British Champion. At his last fight in Thai Boxing, Niall became officially ranked as the U.K. Number one, beating his opponent who held that ranking for several years. Niall recently moved over to boxing to provide for his family.
Niall says "I've been very fortunate to train under fantastic teachers. Firstly, Grand Master Sken and now my boxing coach Pat Barrett (Former European Champion). The gym I have moved to, Collyhurst & Moston ABC has a great vibe, a fantastic stable of incredible fighters and we all push each other to be the best we can be."

In his first professional boxing fight, Niall fought at a sold-out Victoria Warehouse in Manchester on Black Flash Promotions, beating his opponent via 2nd round knockout.
About the sponsorship, Niall said "I look forward to working with The Compensation Experts in the future. Hopefully we can all grow together, and I really appreciate the support at this early stage."
We are proud to sponsor Niall, and wish him every success.