Seven ways to future-proof your business using digital marketing
Did you know that the average person now spends more time online than they do watching TV or reading newspapers or magazines?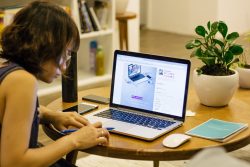 As a result, research has shown that digital marketing budgets are predicted to double this year. With this in mind, companies really need to consider their online presence as boosting it will improve customer loyalty, inspire user engagement, reach wider audiences and encourage an upsurge in organic traffic etc.
However, if you are just dipping your toe into the world of digital marketing, there's lots to consider. Customers take in information in a variety of ways e.g. email, social media, blogs posts, e-guides and online brochures, to name just a few. Yet with so many different elements to build into your strategy, it can all seem a little overwhelming. If you're unsure of how to kick start or bolster your organisation's digital marketing, here are seven ways to help develop your marketing toolkit and ultimately, future-proof your business.
1.Is your website user friendly?
Your company website reflects the image of your business, so ensure you put time and effort into making it aesthetically pleasing. Simple things, such as colours and fonts, will hugely impact the user experience, so it's important that you spend time getting this right.
Over complicating or making it difficult to navigate could put users off from revisiting. All information should be quick and easy to find to avoid unnecessary frustrations. A useful tip is to opt for a clear homepage with call to action buttons and prompts to guide visitors to popular pages. A 'Frequently Asked Questions' (FAQ) section is a good way for your users to access the information they need quickly. Also think about the content on each page of your website. Is it clear, concise and informative? This will help users find the answers they may be looking for.
Finally, don't use too much jargon. Terms that are regularly used within your business or sector may not make much sense to your visitors so keep language clear and concise. Also, think about adding a personal touch and show the names and faces behind the brand. An 'about us' page with headshots and short paragraphs about your staff members can help showcase the team to customers and bring the brand to life.
2.SEO, what you need to know
Search Engine Optimisation (SEO) can help increase your businesses online visibility and its position in search rankings. However, it can also be an incredibly complicated concept if you're not a SEO scientist. But rather than burying your head in the sand due to its complexity, there are a few simple things you can do to optimise your online presence.
Write regular blogs on topics that you know will be of interest to your customers. Creating quality content with regular blog updates can be a great way to boost your search rankings. Each blog should be a minimum of 300 words and should be written with your customers in mind. Don't forget to share the content over your social media channels too.
Use keywords relevant to your business and regularly include them in your content. This can help with SEO if they are incorporated naturally as search engine algorithms are very clever and can easily spot artificial attempts at trying to bump up the SEO rankings.
3.The power of customer reviews
Consumers read an average ten online reviews before deciding whether or not to make a purchase, according to Bright Local.
Therefore, you need to look as attractive as possible online to potential clients who will take into account everything from your website to online reviews and testimonials. Don't forget, they'll probably be looking at your competitors' website and reviews too so highlight what sets your business apart.
Consider using third party review sites such as Trust Pilot or Feefo as these are independent review sites that many consumers trust.
4.Pay per click (PPC)
PPC can drive rapid online growth by enabling businesses to pay for prime positions in search rankings. Platforms which can be used to generate leads include major sites such as Facebook, Instagram, Bing and Google. However, it's important to know what you're doing when using this service as if you get it wrong it can be an expensive experiment. One tip would be to outsource PPC to an external agency to ensure you receive a return on investment.
5.Social media
Today, most people have experience of social media as they use it daily in their personal lives. However, incorporating it into your business strategy requires planning. Think about:
Which channels are appropriate for your intended audience?
Are you posting interesting and engaging updates?
Is your business set-up on multiple social media sites?
Will you be advertising products and/or events?
Using social media can be an effective way of getting your content out there, and far more cost effective than traditional advertising. If you are paying for social media advertising, it's important to set targets to avoid running up any unnecessary costs or if using it in the traditional way, be brave and tag other users & use hashtags to boost engagement.
6.Chatbots, live chat and other instant messaging services
More and more businesses are realising the benefits of communication tools on their website that offer a real-time response to customer enquiries. There are a range of different functions that can be implemented on your website which will improve your customer journey including:
Live chat – The perfect middleman between a phone call and an email. This is an ideal way of capturing users who don't want to speak over the phone or draft long emails to obtain information.
Chatbots – Most of us are familiar with AI chatbots from the little pop up in the corner of a screen on a website that offers to help with a query. This AI tool simulates conversation without the need of a human operator and is a handy tool to ensure queries are being dealt with efficiently and around the clock.
WhatsApp and Facebook Messenger – These instant communication platforms are conversational marketing tools. Whatsapp has recently introduced a business version, which allows SMEs to create an account to speak to their clients; whereas Facebook Messenger, is slightly more established in the business market enabling companies to integrate their Facebook pages and advertising accounts.
7.Analytics
Website and social media analytics can provide you with a lot of statistical information about how your communication platforms are performing. Data such as frequently visited pages, average page duration and the journey around your website can provide invaluable insight, allowing you to monitor your performance and make changes where necessary.
Digital marketing is becoming more and more crucial in helping businesses to step up and reach their target customers. Boosting your digital marketing efforts can help you stand out from your competitors and capture online enquiries to win new business. Make sure to continually revise and update your marketing strategy to suit your customers' needs.