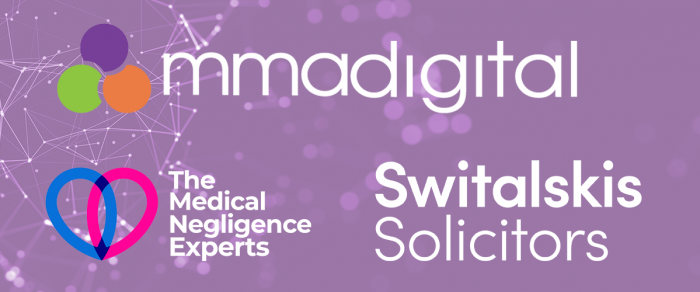 mmadigital Announces Long-Term Partnership and Contract with Highly Regarded Medical Negligence Group
Here at mmadigital, we would like to announce that we are entering a long-term partnership with one of the most highly regarded group of law firms in the medical negligence market- the Switalskis Group. The Switalskis Group comprises Switalskis Solicitors, Pryers Solicitors, and Atherton Godfrey Solicitors who operate from 12 offices across Yorkshire. They provide specialist legal services including medical negligence, brain, and serious injury cases. Many of their colleagues are also leaders in their fields of expertise.
We have had a long-term relationship with the group previously. However, they recently undertook a pitch process to consolidate their marketing budget. After a very competitive process, the group selected mmadigital as the company to provide them with their medical negligence enquiries. The contract is a very sizeable one and one of mmadigital's largest wins to date.
Commenting on the contract win, Dez Derry, CEO of mmadigital, says: "We're extremely excited to be able to strengthen our relationship with this group. After a robust pitch process, the group has decided to consolidate their marketing budget with mmadigital and our consumer facing brand The Medical Negligence Experts. We see the long-term partnership as an opportunity to support them and their continued growth."
The Managing Director of the Switalskis group also comments: "We have worked with the team at mmadigital for some time now. We have always been really pleased with the quality of work they deliver. We are excited to be able to enter into a partnership with an ambitious company who have committed to supporting our strategy of growth."
Long-Term Partnership and mmadigital's Continued Growth Strategy
This prestigious contract win has only further propelled mmadigital's continuous growth plans. We plan on continuing to be the market leaders in medical negligence, personal injury, and many other markets. We plan to do this with our consumer-facing brands The Medical Negligence Experts and The Compensation Experts respectively. With this contract win under our belts, we are more confident than ever that mmadigital can grow to new heights.
How We Can Help Your Law Firm
Here at mmadigital, we know that the most important thing is quality of leads. The investments we make ensure that we deliver the highest number of the best quality leads. This shows that, with mmadigital, you will be getting the best return on investment. This is because we constantly strive to make sure our leads are the best quality.
If you would like to find out more about the services we offer, contact us directly to arrange an online demonstration of our lead generation platform.