Keep you and your business secure online this Cyber Monday
This year's National Cyber Security Centre's (NCSC) 'UK Cyber Survey' revealed 41% of Brits are expected to lose money due to online fraud. With more opportunities to buy online and the rise of sale events such as Black Friday and Cyber Monday, are we really secure online?
According to the UK Government's 'Cyber Security Breaches Survey 2019: Statistical Release', around a third (32%) of businesses reported having cyber security breaches or attacks in the last 12 months. As in previous years, this is much higher specifically among medium businesses (60%) and large businesses (61%). The most common cyber-attacks for businesses surveyed by the Department of Digital, Culture, Media and Sport in 2019 were reported as:
Phishing attacks (identified by 80%).
Others impersonating an organisation in emails or online (28%).
Viruses, spyware or malware, including ransomware attacks (27%).
Not only can you and your business face a monetary loss from a data breech or cyber-attack, you also risk the loss of personal data. So how can you protect you and your business online? Follow our simple tips to help your business stay secure…
Bargain Hunting online: Safe browsing, secure connections and payment
With Christmas just around the corner, we are all looking for the best bargain and deal to ensure the perfect gift for our family and friends. The NCSC's 'UK Cyber Survey' found that 89% of people use the internet to make purchases and although it's tempting to buy the cheapest product you find online, it's important to practice safe browsing. Make sure the URL of a website begins with 'https://', this means the site uses secure encryption to protect your data. A small padlock should also be visible next to the URL bar (Webroot Cybersecurity). A website should also have clear contact information and a link to their privacy policy. Purchase products from known brands where possible and always check the reviews to help you spot any inconsistencies.
If you are shopping out & about and want to compare the price of an item online, make sure your internet connection is secure. There are many free connectable wi-fis available in public areas around the UK however, by using a public connection 'you have no direct control over its security' (PCMag 2019). Be wary of networks that ask you to submit personal data before connecting. Make sure the devices you are using are secure before making a connection and if you are unsure, opt for using your data or wait to connect to a known secure network. Alternatively, the use of VPN software when used would help to ensure that all your information is kept secure when connecting to any insecure wifi access points"
Look before you click: Is a link or download legit?
The most common cyber-attack tricking users into clicking on malicious links and spreading malware in 2018 was email spam. 69% of spam emails encourage users to visit a malicious URL and 31% contain a malicious attachment for a user to download (Matt Ahlgren, Website Hosting Rating 2019). Check who is sending you the email and make sure the email address matches the sender's name. Avoid clicking or downloading anything from an unknown address or stranger.
For official documents such as bank statements or bills and invoices, make sure the brand, logo, web address and contact details match the official website or information previously supplied to avoid a potential phishing attack. If unsure, opt to call the telephone number on the official website instead of any supplied contact details within the email. Remember, the majority of companies will NEVER ask you to provide personal information such as usernames, password or bank details via email.
Protect your data: Be careful what you post online
The internet can be a very vocal place and it's often tempting to include your own opinion on a post but be careful, it is very difficult to completely delete anything online and may come back to haunt you at a later date. Social media platforms such as Twitter, LinkedIn and Facebook should be used professionally and always check your security settings to limit those who can see your information.
Avoid including personal details online such as credit card numbers, contact details and location information unless on a secure website i.e. making payment, using encrypted messaging or completing a form on a trusted site.
Passwords: You are only as strong as your weakest password
"You are responsible for safeguarding your account, so use a strong password and limit its use to this account. We cannot and will not be liable for any loss or damage arising from your failure to comply with the above." (Twitter's terms of service)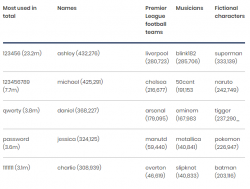 The most commonly used password is '123456' and has been accessed by third parties in global cyber breeches 23.2million times (UK Cyber Survey, 2019). By choosing to use a weak password across multiple platforms and accounts, you are opening yourself up to an avoidable cyber hack. Select a strong password that includes a mixture of uppercase & lowercase letters, numerical characters and special characters such as '!, £, $'. Avast recommend using four random words to create one unique password i.e. 'SpaghettiHorseTireLamp'.
Password manager software such as 1Password or Bitwarden can help you to manage multiple passwords so that you don't forget them. Remember to update your passwords frequently!
If the option is available, use Two-Factor Authentication to make your accounts more secure. Two-factor authentication means you need to pass another layer of authentication, not just a username and password, to get into your accounts (Login Radius, 2019). Many sites are now adopting two-factor authentication such as Google, Facebook, LinkedIn and Microsoft. This can often require the user to insert a second passcode or pin sent to a selected device or a push button authenticator. If your original password is compromised, you will still be protected so always enable two-factor authentication for your password manager and any other account that the service is available.
Stay protected and secure online. At mmadigital we make sure our clients' data is protected with our lead management portal to avoid any data breeches. If you would like to know more about how we can help with your customer acquisition strategy, call 0161 452 0311 and speak to a member of our team today.