It's official mmadigital is the leading marketing collective for medical negligence claim enquiries on Google
According to a recent report called 'Medical Negligence Search Visibility & Digital Marketing Report' by one of Europe's leading digital marketing agencies Stickyeyes, shows mmadigital's brand 'The Medical Negligence Experts' now in the top 3 UK medical negligence brands, leading the way with Irwin Mitchell.
The report analysed the top 20 online medical negligence brands and how they generate leads online in a costly and competitive market. For consumer facing legal services, medical negligence is historically the most competitive market a legal brand can focus on. Many established brands have dominated the market when it comes to organic search making it a 'one horse race'.
Medical Negligence Experts scores highly on relevancy.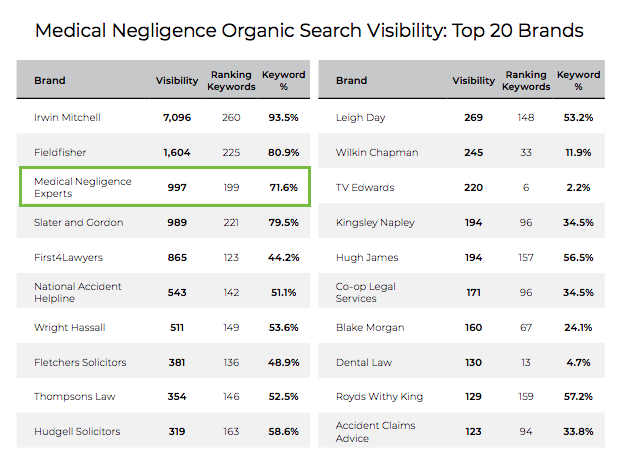 The Medical Negligence Experts is the third most visible brand in the analysis and scores highly on a number of engagement factors – particularly relevancy. According to the report, "The brand has the highest content relevancy score in our analysis as well as one of the highest average body content scores."
A good content strategy, strong brand recognition, brand authority and relevancy are key for quality of search traffic and converting leads into enquiries online. Various factors can influence how Google measures a brand, site or page which influence the algorithms and determine ranking position of pages for a specific keyword result.
We have been working hard over the past 3 years to establish our brand 'The Medical Negligence Experts' within the market place, but what does it take to improve your own organic search rating? Here are a few top tips:
Build a level of trust by providing informative content
Make sure to include keywords in your content but keep it relevant to the context
Check how well your users are engaging with the content and 'call to actions'
Ensure your content is accessible across all devices and loads successfully each time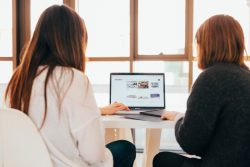 If you have not already seen a copy of the independent report, 'Medical Negligence Search Visibility & Digital Marketing Report', please email emma@mmadigital.co.uk for a copy.
At mmadigital, we provide enquires to some of the best Clinical Negligence teams in the UK. If you are interested to find out more about how we can provide your law firm with consistent monthly enquiries, please contact Rob Macfarlane by emailing rob.macfarlane@mmadigital.co.uk or call 0161 452 0311.