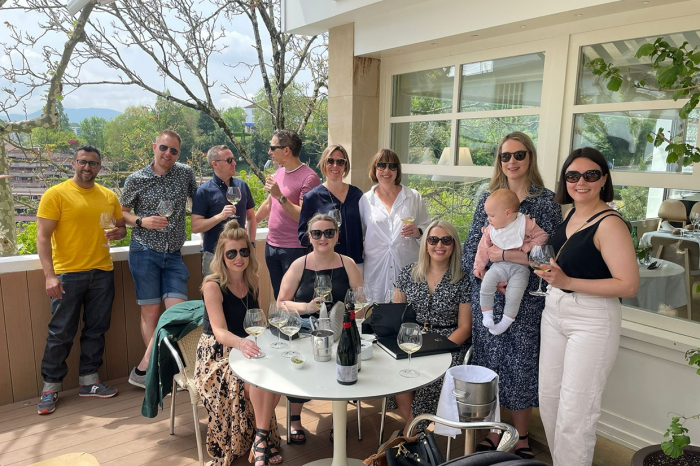 Dez Derry, Founder and CEO of mmadigital on turning 40 and his road to becoming a successful entrepreneur
Dez Derry is the Founder and CEO of mmadigital, customer acquisition specialists for the legal sector based in West Didsbury.
May marks a milestone month for Dez as he turns 40. For many, it's a time for reflection and to take stock of who you are and where you are in life, and for Dez it is no different.
"I think at every age, I have been proud of the year under my belt but this one is particularly memorable. Not only is it my 40th birthday year, but it is a year where mmadigital will make considerable progress towards my long-term ambition of trebling in size by 2025."
In a year that also marks mmadigital's 10th anniversary, the past decade has been a whirlwind of excitement, challenges, achievements, hard work and lots of learning. Starting out as one-man band in a backroom in 2012 then pivoting and starting again with three people in the summer of 2016, the business has flourished from a fledgling start-up to a forecast £20m multi-million-pound, fast-growing market leader.
A tough start in life
A tough start in life can be among the key motivating and inspiring factors that turn people into successful entrepreneurs, and this certainly rings true with Dez. Born in Walsall in the West Midlands, he was one of three brothers. Abused at a very young age, Dez spent his early years in and out of foster care. At eight-years-old, he and his brothers joined a loving adoptive family, with whom they bonded quickly.
This was 1990, and the adoption was particularly significant as it saw one of the first Indian families to be adopted by a white family in the UK. Nevertheless, growing up as an Asian son of white working-class parents in a council estate, Dez had a challenging childhood which was marred by racial abuse. During his teenage years he got involved with the wrong people in his quest to fit in, and after numerous suspensions (he was lucky never to be expelled completely!), his dreams for a bright future fell by the wayside.
The drive to succeed
After kicking off a sales career selling nail varnish at 19, Dez's drive to succeed was evident early on when he joined Yell PLC selling Yellow Pages advertising. At 21, he became their youngest ever face- to-face salesperson in what, at the time, was the largest direct salesforce in the UK. He was Yell's top performer for seven years and achieved multiple promotions.
Dez's tenacious character combined with entrepreneurial spirit led him to launch his own business offering digital marketing consultancy services, and in 2012 this evolved to a full-service digital marketing agency, building websites, creating video content and delivering multi-media campaigns for law firms across the UK.
From traditional agency to market leader
Recognising a shift in the market, Dez pivoted his business model and operations in 2017 to concentrate on using his team's in-house marketing expertise to acquire cases on behalf of his law firm client base. A new start-up phase began – a customer acquisition specialist working exclusively in the UK legal sector. The business was an attractive proposition and in 2021, Dez secured private equity backing from Rockpool Investments in what is the firm's first venture into the legal service sector.
To help navigate the business through the changes and beyond, Dez has been joined by prominent technology expert, Mark Cappell as Chairman, and Steve Evans, a CFO with significant experience working with private equity-backed companies in the business services and legal sectors.
A year of transformation
2022 has presented new opportunities to strengthen mmadigital and grow in new areas, and Dez is embracing this new challenge as he forecasts turnover to double year on year. Having made a number of senior hires, he is eyeing the adoption of innovative technologies and extending product offerings as key to the transformation of the business, which is currently going through a brand relaunch.
"In today's information-driven business setting, data is the fuel for growth, and I see this as crucial part of our growth strategy, both organically by our own team of developers and through acquisitions. The past two years has shown us all that we must constantly adapt and evolve and I'm excited and hugely optimistic for the future. I don't have the '40-phobia', I see it more as anything is possible!"
Dez's ultimate vision is to build a business that puts people first and provides opportunities to develop their skills, confidence and resilience, and ultimately build successful careers.
"I want to inspire others and show that you can achieve your potential through hard work, drive and determination, regardless of your life situation or experiences."