Content Marketing Trends You Should Not Ignore
Content marketing is the production of authentic, useful and relevant information for consumption usually through the internet.
Major technological breakthroughs, such as conversational AI, has led content marketing to undergo a complete transformation, altering the way in which we share information. Over the past year, while content marketing has continued to be key part of marketing strategy, the way in which we generate and distribute content has been changing rapidly.
It is essential that businesses stay on top of their marketing platforms to make a real impact using content to receive sustained results. If you can connect with your audience in an authentic, personal way, leveraging content to deepen relationships vs only selling or posting irrelevant content, your engagement will increase and establish your business as reputable.
As content marketing continues to be an indispensable element of an organisation's marketing strategy, let's look at our top content marketing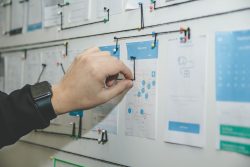 trends for 2019/20:
The Content Marketing Roadmap
Align your business goals: find that sweet spot where your business can create and publish content that captures your audience's attention in a personal and meaningful way, as well as helping you to achieve your goals and vision for the year ahead. Take time to discover your target audience and what they engage in while establishing KPIs that make your business unique. Ensure that you do extensive research to curate the right plan of action to set your business up for the year ahead.
Ensure that you set goals for your content marketing strategy, particularly goals that align with your business objectives, so that your content can help you achieve these and increase your overall RIO, whether through generating more traffic, enquires or phone calls. Take note that segmenting your audience can also be key to personalising content, and having different strategies for different customer acquisition channels can help achieve these objectives.
Micro-Influencers as freelancers
Previously, influencer collaboration meant having the social media influencer promote your brand or products/services on their own channels; however, a more recent trend uses the influencer to create content for your business' brand channels. Social media users are becoming wiser to the distorted view that some influencers portray, which leads them question their trustworthiness as micro-influencers who can lie about the results from these products/services. However, all is not doom and gloom, as working with micro-influencers can have quite a few advantages from boosting brand awareness, credibility, amplifying content and to building a real connection with the influencer's audience.
To ensure your influencer campaigns work, you need to have a known and respected influencer who attracts followers from your niche market – who can promote and develop your content on their channels – to help drive traffic to your platform. Choosing the right influencer is key to success, as some with a high follow rate may be expensive and will not attract the right audience for your business; therefore, it is worth investing time into finding the right candidate to help promote your business. A well thought-out program will help to maintain relationships, set goals and deliver measurable results. Remember it's not as easy as hiring an influencer and expecting overnight success.
Voice Search "what is content marketing?"
With the increasing popularity of devices like Google Home, Google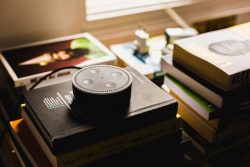 assistant, Amazons Alexa and Apple's Siri, voice search will only continue to grow, so much so it has even become the new normal. Previously marketers progressed to a point where their content could be picked up through a number of channels using typical keyword combinations; however, with the increased use of voice search devices that entail conversational, semantic phrases, planning and optimising content with the mindset of "how will my customer ask a question using voice search", is another strategy within itself.
Voice search content needs to answer quick questions with quick answers to ensure a targeted audience is engaged effectively. Your business needs to think about the words people say, not just what they are likely to type via a keyboard. Understanding each voice assisted device can be a challenge, as much of the data they use pulls from different sources and different devices will offer different results. This can make it difficult for many marketers to foresee if their content will be selected; however, there are still things that can be done to make sure that your content is the one that voice assistants will recommend and that you are ahead of the competition.
As the majority of voice searches occur on mobile devices it is imperative your business' website(s) is/are mobile-responsive and mobile-optimised, especially as Google prioritises mobile-optimised sites in search results.
Authentic Content
Personal, relevant content increases your target audience conversion intent; therefore, focus on creating content to be original and relevant using your business themes and keep in mind any KPI goals. Remember, there is no point in creating content that your business does not believe in or actively participates in. Content marketing can be used to your advantage if you can portray your business views in an honest manner, and target your audience with content they believe in.
Content marketing is great at building brand awareness and should be less about bragging and more focused on the experience you create for your target audience. Content today, needs to be original, relevant and meaningful as consumers are getting smart at avoiding clickbait content and they are actively seeking content that can solve their problems.
Content Marketing and Artificial Intelligence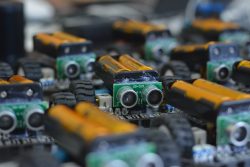 Artificial intelligence already plays a large part in marketing and adoption is set to keep rising. One of the biggest effects on content marketing is machine learning and how we analyse the data. Artificial Intelligence systems provide quick and simple answers to frequent questions, speed in payment transactions and trend feedback, as it is able to interpret data in seconds, whereas this could take hours, if not days, by a human.
AI technology is allowing marketers to build more bespoke strategies to bespoke audiences as they will have more data to process and analyse. With the option of continued learning campaigns, you are able to understand and target these audiences more directly with personalised content, based on personality traits, interests, location, and online shopping behaviour.
Conclusion
As content marketing is widely used by a large majority of marketers and businesses, there is a lot of content to compete with and it's easy to get bogged down when your content isn't appearing in search results or in your audiences' feed. Considering and adapting to content marketing trends is integral to your marketing strategy, ensuring that it has maximum benefit to support the generation and/or retention of customers. These content marketing trends identified by our experts will surely help you get organised and make smarter marketing decisions as we head towards 2020.
Which trend is an easy win to implement in your marketing strategy? Tell us on Twitter or LinkedIn, with hashtag #CustomerAcquisition