Consumer attitudes to choosing a legal adviser revealed
Ever wondered why consumers decide to go with one law firm over another? mmadigital reveals all in a new research report.
In March 2019, mmadigital conducted a survey through global market research consultancy, Sapio Research, which polled the views of over 500 respondents who have used or considered using legal services in the UK. The results of the survey have been combined into a research report, shedding light on how consumers really feel when engaging with lawyers & law firms including; how consumers choose a law firm, the cost factor, UK claims culture and how technology is shaping the way consumers interact with legal services.
The report also highlights consumer apprehension about embarking on legal proceedings and understanding of legal jargon.
Key reveals:
83% of consumers admitted they prefer to deal with law firms online in an attempt to keep costs to a minimum
46% are concerned about not knowing how much the legal fees will be until the work is completed
41% of respondents admit they would consider making a false claim for financial gain, highlighting the need for robust filtering of new enquiries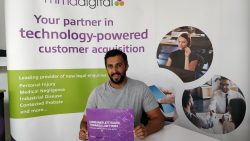 To help law firms implement findings from the survey into their own communication strategies, the report also includes our top five tips for firms looking to become more accessible to consumers.
For more information about the results please call 0161 452 0311 or email emma@mmadigital.co.uk.
Let us know your thoughts on the research on LinkedIn and Twitter by using #mmadigitalreport
About Sapio:
Sapio Research is a creative and professional market research agency who provide global business & consumer market research services. Providing high-quality insights, delivering against key business objectives and informed messaging.