Apprenticeships in the workplace: Meet Aleksandar mmadigital's Marketing Apprentice
Find out why an apprenticeship can be the best way forward to start a career…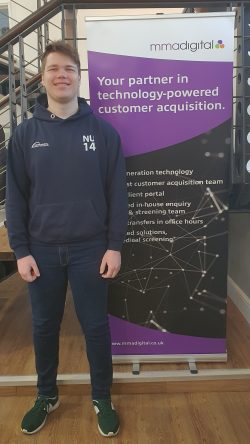 According to UK government statistics, 219,800 apprenticeship commitments were recorded in 2018/19 academic year (Apprenticeship and levy statistics: October 2019). And the first Further Education (FE) Skills Index released by the government showed the value added to the economy from apprenticeships has been increasing year-on-year, rising 10 per cent between 2012/13 & 2016/17 – with a notable spike in 2018/19 due to the increase of higher level and advanced apprenticeships (People Management 2019).
Apprenticeships can provide an incredible opportunity for young people looking for work and UK businesses looking to develop their staff and teams – with government funding available too. Jonathan Corris, Customer Acquisition Specialist at mmadigital comments, "Having an apprentice join the team is a breath of fresh air. They are a clean slate so you can teach them the necessary skills they will need throughout their career but in a way that suits your businesses requirements."
At mmadigital we employ a Marketing Apprentice, Aleksandar Jovanovic to work alongside our Lead Generation Team to assist and develop the lead generation strategy which helps boost organic performance and increase brand engagement. Aleksandar works closely with Daniel Clode – Head of Growth, Ian De Cordova – Lead Generation Manager and Jonathan, who adds, "Aleksandar has brought a host of positive challenges to mmadigital, for example, he actively questions and highlights issues in areas across the department. When this happens, I usually challenge him to research and have the opportunity to fix the issues."
Not only does Aleksandar have an active role to play in the department, he also manages the daily tasks on a fairly complex app called Zapier, he has built a personal injury chatbot and assists our inhouse PR/Content specialist in sourcing relevant news. Aleksandar says, "I have learnt a lot about the workplace already in my apprenticeship with mmadigital. I have developed an understanding of how to conduct myself in certain situations and what it is like to work a full day from 9-5. I have also enhanced my communication skills for the workplace such as how to get my opinion across in an appropriate manner."
This has positively impacted the team and business, Jonathan explains, "So far we have been impressed with his (Aleksandar) ability to learn and integrate with our team and the overall business. He is always in a positive mood and takes on board what we teach him which makes it a lot easier to manage and develop his skills."
Blending teaching time with daily work activities can often be a challenge but spending time with an apprentice is essential to their development, Jonathan continues, "Time spent actually doing and implementing the skills rather than just listening and watching seems a sensible way to approach it. I am a huge believer that the best way of learning is to actually do it!"
Aleksandar's mmadigital Story: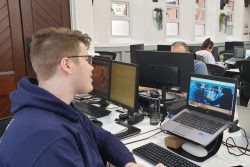 Why did you choose to do an apprenticeship?
"I chose to look into doing an apprenticeship after feeling a bit lost with what I wanted to do after I left school. Whilst my sixth form offered guidance and support for UCAS applications, apprenticeships and other options always seemed to be lacking the same attention. I didn't really have a set drive or motivation for any particular course at university. I knew that it would be a huge commitment and financial obligation for the next 3 years of my life and it didn't make sense to me to go through with it if I didn't know for certain what it was that I wanted to do. An apprenticeship held a vast range of benefits for someone who was in my position, experience, qualifications, connections and much more. It gave me an opportunity to explore my interests and get an understanding of what actual work looks like and what is expected from you."
What do you enjoy most about working at mmadigital?
"I'd have to say that the people I am surrounded by makes it most enjoyable to work at mmadigital. The nature of work that we deal with can be quite stressful and daunting at times due to the injuries and cases of negligence we cover amongst other things. I almost forget about this since the people I work with are always light-hearted and the atmosphere in the office is very tension-free. Everyone is super friendly and easy to talk to. This is especially true when it comes to my mentors, Ian and Jonny. They eased me into the business and introduced me to everyone and have continued to guide and help me with any tasks I am having troubles with whilst constantly creating good humour to keep all of our moods elevated."
Where do you see yourself in 5 years?
"In 5 years, I hope to have a good position at work, whether that is at mmadigital or not I couldn't possibly know. I would definitely like to have progressed my qualifications further by a sizeable amount to be better equipped for the workplace and my future career progression to best support myself and wherever I may be working."
What advice would you give to other people looking to do an apprenticeship?
I'd say the first thing is to make the best possible CV you can, There are countless templates and resources to guide you through this. There is no excuse to not have a nicely structured and laid out CV and it is the first impression your potential employer will get of who you are as a person so it is really important you do this correctly as in many cases this is what dictates who gets an interview. I'd recommend looking at the gov.uk site as there are countless apprenticeship listings on there and think carefully about what you are interested in. On the other hand, do not limit yourself to just this as you may find that if you are lucky enough to get offered an interview, you might get a completely different impression of the role you have applied for. Furthermore, apprenticeships can be quite competitive so don't get disheartened if you don't get the apprenticeship you are looking for. There are plenty of apprenticeships so just keep applying and you will eventually find something that suits you.
BONUS QUESTION: If you were stranded on a desert island which mmadigital staff members would you take with you and why?
"This question is very difficult to answer. There are a lot of promising candidates for whom I would choose to bring on an island with me if we were to get stranded and there are very obvious people who I would not bring with me. The first person who would get the privilege to get stranded on an island with myself and the other team members I have chosen would be Ian. Ian not only knows how to defend himself through his experience with Jiu Jitsu which could help us in the case we get attacked by some animals. But he is also very blunt and seemingly unempathetic at times (no wonder he won office grinch of the year for Christmas). Whilst this may sound very negative, it is a very important characteristic to have when it comes to decision making in stressful and critical situations such as being on an island. The second person would be Jonny. Ian and Jonny provide great humour to the office through their 'banter' and this would be a really good thing to have on an island. Jonny also told me he was always good at climbing trees so this would be imperative for when we need coconuts or fruit. Shannon would be next, she won our best dresser award at our Christmas party so if we ran out of clothing to wear, I'm sure Shannon would be able to design something for us all to wear. Rob would be the final person I bring along since we both have experience rowing, if we were to make a boat somehow, we could get everyone of the island hopefully and the nightmare would be over."
If you would like to undertake work experience with mmadigital or know more about our apprentice scheme please contact us today or visit our careers page to see our latest available vacancies – https://www.mmadigital.co.uk/join/