Combating a competitive industry: Alternative careers for Law Graduates
As more and more Law students are graduating with 1st class degrees and competition for jobs increases, what are the alternatives to becoming a lawyer and putting your degree to use?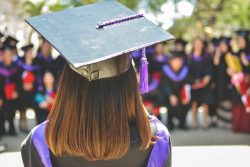 You've spent 3 – 4 years studying hard and now you are ready to graduate with your well-earned law degree, now what? In 2018, 16,256 students graduated with law degrees from English or Welsh universities and in the same year roll admissions for the industry increased by 4.12% to 6745 with law graduates only taking up 10% of these admissions (The Law Society Annual Statistics Report 2018). Not only can law graduates face competition from Law apprenticeships but also from graduates with non-law degrees or by Paralegals, Chartered legal executives or Barristers looking to pursue an alternative career (LawCareers.Net 2019). In 2018/19, according to the government's 'Apprenticeship and levy statistics: October 2019', 930 law & legal services apprenticeships were appointed, a 344% increase from 2014/15.
So, what are the alternative career paths for a Law Graduate?
Staying within the law
There are many careers within the legal sector that will allow you to put your degree to use and continue working towards becoming a qualified solicitor such as a Barrister, Chartered legal executive, Conveyancer, Judicial assistant, Law costs lawyer, Legal cashier, Legal secretary, Paralegal, Probate practitioner, Court Usher (The Law Society 2019). Alternatively, you could also become a Researcher at the Law Commission to assist with legal reviews and reform projects, allowing you to directly affect the law that solicitors practice.
Don't forget, it takes a minimum of 5 – 6 years to become a qualified solicitor if undertaking the path of a law degree and completing a one year LPC with a final two years of training in a law firm (Prospects 2019). An alternative career path could provide you with more industry experience and knowledge than taking a direct route.
Supporting the industry in Legal Services
There are a multitude of legal services in the UK which support the law sector to settle compensation, provide insurance, assist with financing, provide customer acquisition solutions, IT services and more.
Your understanding of the law could be invaluable to these services to help improve their products or services for the law industry and deliver a high level of customer service due to your knowledge of a claimant.
At mmadigital, we have been taking on law graduates and law students as contact centre executives who work as a team to qualify, vet and deliver enquiries straight to our panel of law firms, providing access to justice for UK claimants. This has allowed our graduates to get first-hand experience of the claims system and converse directly with claimants who are often dealing with difficult injuries or circumstances. This has given them an in depth understanding of qualifying claims and the criteria they must meet to become a potential case.
Currently 31% of our contact centre workforce are law graduates while a further two are completing their final year of university. Dez Derry, CEO of mmadigital comments, "We hope to provide an alternative career path for UK law graduates which allows them not only to put their knowledge to use but develop a deeper understanding of what's required of a solicitor and determining what is a viable case. We hope mmadigital can be a positive stepping stone on their path within the UK law industry."
Sean Sloane, Law Graduate working at mmadigital says, "mmadigital is a great place to work for both law students and graduates. They actively encourage our studies and are very accommodating when it comes to our course timetables and assessments. I have been able to put my degree to use and continue learning about clinical negligence and personal injury claims as I pursue my career in the law industry."
A career outside of the law
Alternatively if you've decided the law industry isn't for you but don't want your degree to go to waste, then there are a number of career paths that will still allow you to implement the skills you've learned while studying.
Why not work in civil services or undertake a career in policing? Both career choices will allow you to actively use your knowledge of the law. Or aim for parliament and become an MP. In December 2019 12% of MPs who won seats studied law at university (Studee 2019).  Peter Crisp, Former Dean of BPP Law School said the experience of practising law, and engaging with and representing people from all walks of life, gives these MPs a much greater understanding of British society than career politicians have (Law Gazette 2015).
A role in HR could give you the opportunity to work within any industry giving you experience in a number of sectors. Or you could continue sharing your knowledge by teaching the next generation and gain further qualifications as a postgraduate.
Your degree is a gateway into a number of industries and job opportunities, so don't restrict your search to the jobs listed in this article. Think outside the box and pursue a path that suits you! Don't forget to ask for advice and experience along the way.
mmadigital offer a number of career opportunities to UK graduates. Visit our careers page today to start your journey – https://www.mmadigital.co.uk/join/